Care.com Marketing

Across four main verticals: child care, senior care, pet care, and housekeeping Care.com exists to support not only care seekers but also care providers. Care.com facilitates job-posting and searching, messaging, tax services, and even offers a benefits program for companies to subsidize child care for their employees.


Holiday campaign email targeted towards child care seekers.
Top row: Email targeted towards customers seeking senior care through Care.com. Bottom row: Email targeted towards care providers looking for jobs in 2021.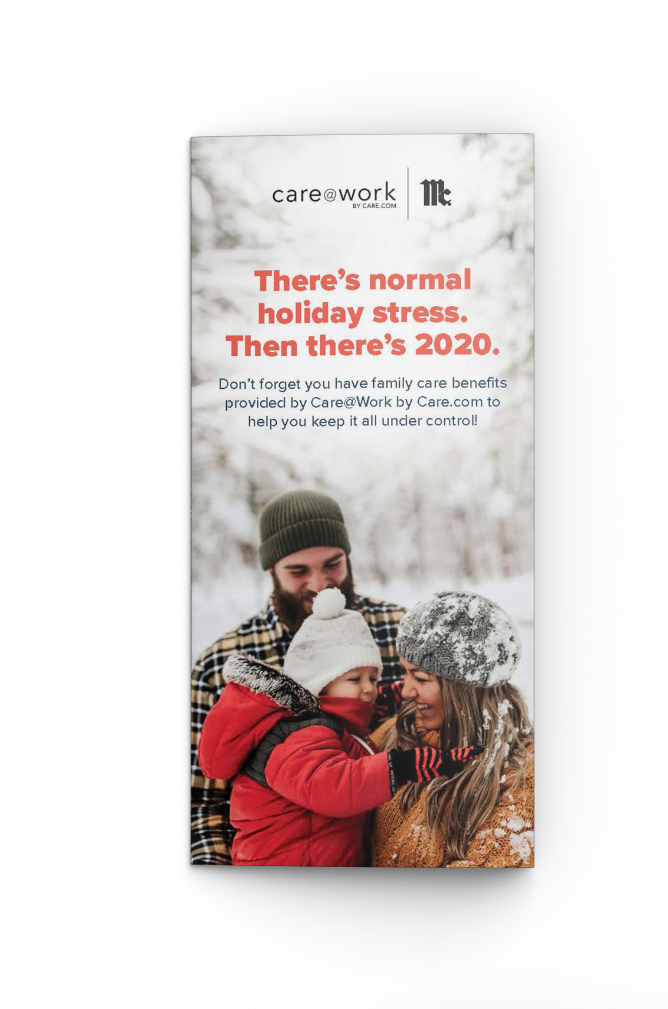 January in-home mailer targeted towards child care seekers and Employee benefits trifold mailer for Care@Work client McCormick.
Top: Desktop email pop-up triggered when a care provider revisits Care.com. Middle: Bi-weekly newsletter for all verticals. Bottom: Holiday campaign desktop brand module advertising the Care.com blog.

Essential to the Care.com rebrand is the new brand voice. Where previous branding sought to present customers with an idealized version of their lives (over saturated colors, perfect homes, etc.) the new goal is to embrace the mess of caregiving in all of it's forms. Pictured above are Care.com photos that embody the candid, natural, and genuine brand look and feel.